The festival is happy to accommodate your wedding or special event.
Packages start at groups of fifty or more and can be adapted to suit your needs.
We at the Colorado Renaissance Festival pride ourselves on making your special day a memorable one! The Authentic Canterbury Chapel located on the festival grounds provides the perfect setting for your Renaissance Wedding. The charm of your outdoor wedding will come to life with the large pine trees and beautiful flowers surrounding you. Please call us to discuss how to make your wedding or special event magical.
Packages include:
Admission & Reception Tickets to the Festival for 52 Adult Guests
( includes 2 Complimentary Tickets for Bride and Groom)
❖ Reception in Royal Garden Area (11:00am to 3:30pm)
❖ 2 Renaissance Souvenir Goblets
❖ Ceremonial Hand fasting Ribbon
❖ Ceremony at the Canterbury Chapel
❖ King Henry's Wedding Feast served Buffet-style
❖ Complimentary Bottle of Champagne for the Celebrants
❖ King's Bagpiper for Wedding Procession
❖ Knighting of the couple by King Henry and a blessing from Queen Anne
❖ Wedding Couple honored by King Henry & Queen Anne at Daily Joust, (2:30pm only)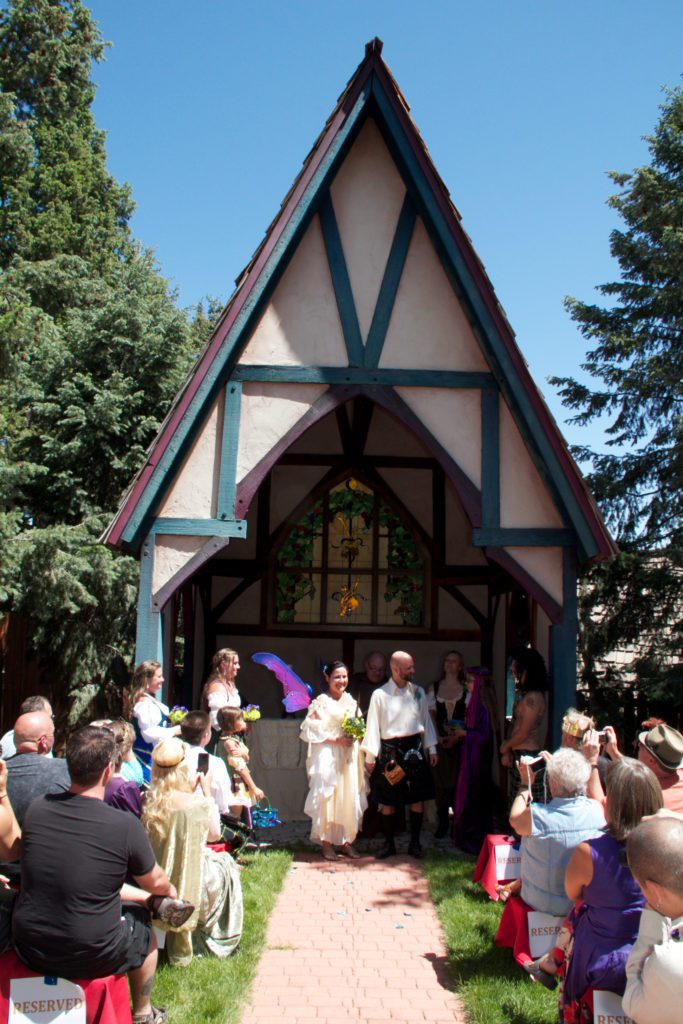 Themed Weekends Or
Themed Weddings
Whether you're looking for a great adventure to have or you want to celebrate that special day with magic, The Colorado Renaissance Festival is the perfect place.